Jason Featured on ABC News with The People Walker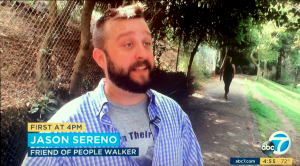 Normally, I don't name drop, but The People Walker (Chuck McCarthy) is probably one of my best famous friends … well, one of my best non-professional athlete famous friends … well, a top-15 famous friend overall.
It's been great to see Chuck and his message of health, wellness and personal security blow up like The Challenger this last year. I've urged him to increase his fee from $7 to $20 per mile, but he remains accessible for Jon and Jane Q American. If you're coming to Los Angeles, try to book him a few months in advance – IF you can book him at all.
You can also see Chuck in our Antiques Roadshow Christmas Special and a very special episode of Dads In Parks. Amazing Dude.