Yesterday Trailer Parody | You Oughta Know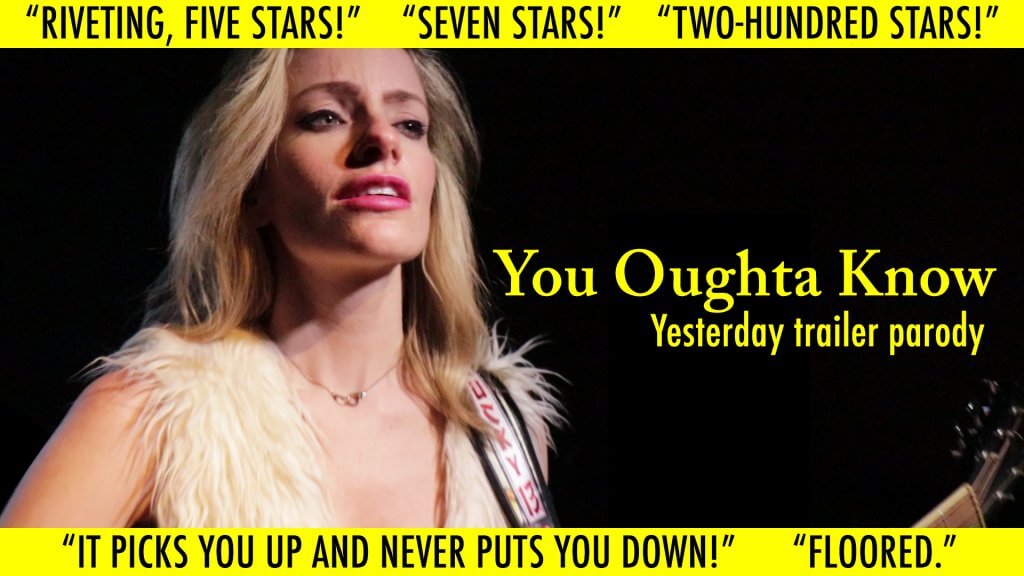 I bought Jagged Little Pill as a Christmas gift for my mom back in '95 and, five years later, left for college with that sucker still in my CD case.
The album was my first adolescent audio foray into lust. Sure, NWA talked about free-wheeling sex, and the Jimmy Hendrix Greatest Hits booklet contained numerous nude photos, but blowjobs in a theater? That shit was wild.
I digress.
The trailer for Yesterday, the movie about the Beatles never existing and a likable guy plagiarizing their catalog, has been filling up my instagram, facebook and twitter feeds for about six months.
All 350 times I was forced to watch the trailer, I didn't have a problem with it — until Ed Sheeran appeared. That guy was a real Cousin Oliver on Game of Thrones; who wants to look at an uglier version of James Blunt for two hours?
Last Monday, I decided to parody the Yesterday trailer with the music of Alanis Morissette. My good friend Cody Renee Cameron, a trendsetter and tastemaker, agreed the premise was funny and hoped I'd deliver on the exemplary script.
A week later, here we are. By all means, if you want to tweet this video to Alanis Morissette, go right ahead; we hope she enjoys this tribute more than anyone.

Also Starring Chuck McCarthy, Carrie Overgaard, Amanda Ursano, Anthony Marks, Chaz Moore & Cheetoh • Produced by Jason Sereno, Chaz Moore, Cody Renee Cameron & Jigger Ferrer • Written, Directed and Edited by Jason Sereno • Special Thanks to The Bronson Bar

Looking for more parodies? Watch our Live PD Parenting Sketch or Social Media Intervention series. Catch Cody Renee Cameron in Hot Couple Cam Show to experience a 21st-century retelling of Old Yeller.